15 LPH Domestic RO Purifier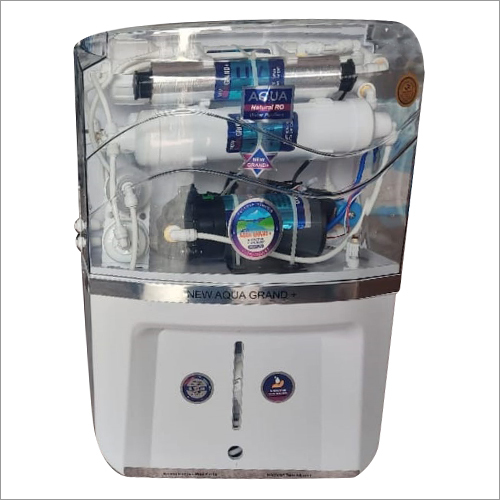 15 LPH Domestic RO Purifier
Price And Quantity
Product Specifications
Product Description
We have gained immense admiration from our respected clients for manufacturing and supplying premium quality 15 Iph Domestic RO Purifier. Our plant is widely used for domestic water cleaning purpose. It can also be installed in schools, homes, colleges, offices, and supermarkets. It works by pushing contaminated water through a delicate membrane. When water is pushed with a pressure greater than osmotic pressure, reverse osmosis occurs. Our plant does not remove necessary minerals from water and maintains its naturally sweet taste. 15 Iph Domestic RO Purifier consumes a very small amount of electricity during its operation.
Specification of 15 LPH Domestic RO Purifier:
| | |
| --- | --- |
| Purification Technology | Ro+UV+UF+TDS+auto flush |
| Water Storage Capacity | 20 Liter |
| RO Capacity | 20 Liter/hour |
| Material | FRP |
| Model Name/Number | Ultra smart |
| Features | Auto Shut-Off |
| Usage/Application | Home and Offices |
| Installation Type | Wall Mounted |
| Storage Capacity | 15 L |
FAQs of 15 LPH Domestic RO Purifier:
Q: What is a 15 LPH domestic RO purifier?
A: A 15 LPH domestic RO purifier is a water treatment machine intended for private use. It is outfitted with a converse assimilation framework that can produce up to 15 liters of filtered drinking water each hour.
Q: Is a 15 LPH domestic RO purifier reasonable for a family's drinking water needs?
A: A 15 LPH RO purifier can regularly meet the drinking water requirements of a little to medium-sized family. Nonetheless, the genuine limit might differ in view of water utilization designs and the accessibility of a stockpiling tank.
Q: How frequently should the channels and film in a 15 LPH domestic RO purifier be supplanted?
A: The recurrence of channel and layer substitution relies upon water quality, utilization, and the particular purifier model. By and large, dregs and carbon channels might require substitution each 6 a year, while the RO layer can last 2-3 years or longer. Makers provide rules for substitution in light of the purifier's exhibition and water quality.
Q: Are 15 LPH domestic RO purifiers energy-productive?
A: RO purifiers drink power to siphon water through the film, so they in all actuality do have some energy necessities. Nonetheless, they are by and large considered energy-productive contrasted with other water treatment strategies. Fresher models might include energy-saving innovations.
Q: Could a 15 LPH domestic RO purifier at any point work without power?
A: Most RO purifiers expect power to work in light of the fact that the framework depends on a siphon to push water through the layer. A few models might incorporate a stockpiling tank that can provide restricted admittance to decontaminated water during blackouts.
Q: Is it important to pre-treat water (e.g., mellowing) prior to utilizing a 15 LPH domestic RO purifier?
A: Pre-treatment necessities change contingent upon the source water quality. In regions with hard water (high mineral substance), it could be useful to introduce a water conditioner before the RO purifier to forestall scaling and broaden the existence of the layer. Water testing and conference with a water treatment master can help decide whether pre-treatment is fundamental.
Q: Could a 15 LPH domestic RO purifier at any point be introduced under the sink or on the ledge?
A: Indeed, 15 LPH domestic RO purifiers are accessible in different designs, including under-sink and ledge models. The decision of establishment type relies upon your kitchen format and inclinations.